Posts Tagged 'islamic caliphate'
TWG:  Good to see some of the Egyptian Citizens are awakening to exactly what obama has done in their country and elsewhere in the middle east.  The obama/clinton/jarrett regime, with the help of their  fellow terrorist william ayers,  have been real busy installing their muslim brotherhood terrorist pals over there, under the guise of "democracy".   Their goal is the caliphate, and Iranian born jarrett has played an integral part in this diabolical scheme.  Next on the chopping block is Syria, Jordan, then the UAE.   The people in those Nations who don't want to be ruled by a klan of islamic terrorists are waking up today, and tomorrow they will hate all of us Americans for what obama and his regime have done to them. Thanks a lot, obama and klan.  You deserve to be in handcuffs awaiting trial and punishment for your numerous heinous crimes against civilization.
Anti-Morsi protester to Obama: 'Your bitch is our dictator'
Posted at 5:21 pm on December 4, 2012 by Twitchy Staff |
View Comments
Earlier today, President Mohamed Morsi fled the Presidential Palace in Cairo, and anti-Morsi protests are now erupting all across Egypt. While President Obama may be too busy picking out sandals for his three-week Hawaiian vacation to give Egyptians the time of day, one protester (purportedly this man) is more than willing to give Obama a piece of his mind:
Cliff Cheney @cliffcheney
Amanda Figueras @AmandaFigueras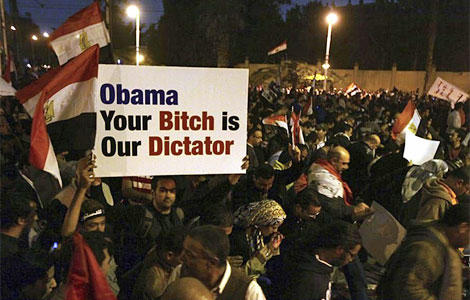 Cookie™ @nevine_zaki
betsy hiel @betsy_hiel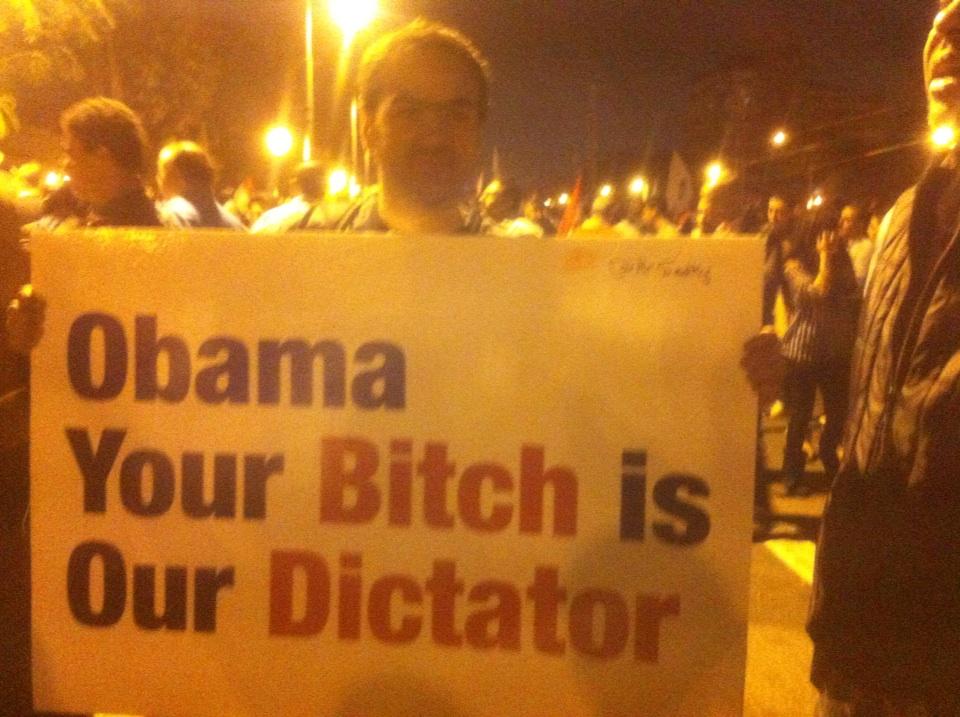 Harsh words for our president, but the truth hurts. This is how Egypt sees him. When will Barack Obama stop gushing over Mohamed Morsi and have the guts to condemn him?
Source: http://twitchy.com/2012/12/04/anti-morsi-protester-to-obama-your-bitch-is-our-dictator/?utm_source=autotweet&utm_medium=twitter&utm_campaign=twitter
TWG: And here it is, Folks.  We knew this was coming. The obama/jarrett/clinton regime are desperate to install their islamic caliphate across the world, starting with the middle east.  We know that's what they did in Egypt, Libya and other areas, and we KNOW that's what they're doing in Syria and Jordan.  They've been trafficking weapons to the muslim brotherhood, (hence, the terrorist attacks and murders in Benghazi) and they've bypassed Congress and TRANSFERRED BILLION$ in American Taxpayer funds to the muslim brotherhood and hamas (KNOWN terrorist groups….. Treason anyone? AIDING AND ABETTING THE ENEMY IS TREASON. DO YOU CARE?)   Not only does the UN require the islamic caliphate, but obama and clinton require it, and have promised it to their masters and to their islamic terrorist pals.   William Ayers and the rest of their "American"  terrorists have been VERY busy stirring things up over there to install their muslim brotherhood pals and their caliphate is coming along perfectly as planned, although Syria is taking a tad bit longer than expected, it'll happen according to their diabolical plan.  Once Jordan and Syria are fed to the muslim brotherhood, ISRAEL IS FINISHED. They will be surrounded on ALL sides by muslim terrorists who want to exterminate them forever and have made that goal perfectly clear in no uncertain terms.  It should be clear to EVERYONE that obama, clinton, jarrett, panetta, and the entire obama regime are hell bent on Israel and America's total destruction.  If you don't understand that by now, you're not paying attention. Do you care about your children?  What kind of world are they going to have to live under islam?   If you don't already know what that's going to look like, you had best start informing yourself.  That is, if you care.  Half this Nation doesn't know and doesn't give a damn. This is the MOST dangerous and despicable case of America's National suicide by apathy.  Sure am glad I won't have to live long in this world they're creating for you.
"The future must not belong to those who would insult the prophet of islam."  ~Barack Hussain Obama
God bless the America we are trying to create. ~Hillary Clinton
Anyone want to bet me the UAE and Qatar are next on obama's list to overthrow via his protesting thugs for "democracy"?  What?  You think they're not planning that already?  THEY ARE.   Watch what they do, not what they say.  THEIR ALLEGIANCE IS WITH ISLAM, THE MUSLIM BROTHERHOOD, HAMAS, IRAN and the CALIPHATE.
Is Obama Selling Out the King of Jordan to the Muslim Brotherhood?
November 20, 2012 By Daniel Greenfield
Jordan is one of the remaining "moderate" states in the region, not because it's an especially wonderful place, but because after the Arab Spring, much of the region has gone Islamist. The Hashemite Kingdom of Jordan is reasonably moderate and friendly to America mainly because it has no other options, with no oil and surrounded by larger countries that would love to gobble it up, it had no choice but to swap out its dependency on the UK for a dependency on the US.
The Muslim Brotherhood would love to take over Jordan, as they have taken over Egypt, with Obama's assistance, and as they are trying to take over Syria. But the United States appeared to have exempted Jordan from the Jihad of the Arab Spring. Until now...
CONTINUE READING: http://frontpagemag.com/2012/dgreenfield/is-obama-selling-out-the-king-of-jordan-to-the-muslim-brotherhood/#.UKwN8OePa8c.twitter